Announcements
Fully integrated Mobile Markups feature streamlines ease and efficiency of capturing and approving as-built construction.
Introducting Mobile Markups, the first end-end construction management software that allows field staff to enter as-built construction data, on mobile.
---
Today, more and more utility and network owners are pivoting to adopt construction management software designed to more effectively manage construction operations and communications between the office and the worksite. Yet, field supervisors are still putting pen to paper to update drawings to reflect as-built construction.
This old-school approach is inconvenient, and results in unnecessary delays in closing-out the project and settling up with contractors. When field crews are marking up static PDFs, it takes significant manual effort to read and transfer data from PDFs to other systems. Not only is this time consuming, but the updates are prone to a significant number of data entry errors. Vital information can be lost or misinterpreted in the process.
Vitruvi™ is changing this, with the introduction of an innovative new feature called Mobile Markups. (Click below to watch video).
Keep informed of changes to designs and as-builts in real-time.
With this addition, Vitruvi is the first end-to-end construction management software platform that allows field staff to enter all as-built construction data, including files, photos AND allows them to draw final redline sketches directly on their mobile device. All within Vitruvi's collaborative GIS-based construction management software.

Vitruvi Founder and CEO, Bryan McIver says this feature ensures as-builts are done right the first time. In real-time!

"In construction, what gets built, almost NEVER matches what was engineered."
"Vitruvi's Mobile Markups feature allows you to draw it once in the field, with survey-grade accuracy, for direct upload into the system of record."
An elegant solution to a common problem of integrating as-built construction
Vitruvi added this functionality to address the reality of continuous utility construction.
"In a perfect world, construction would not deviate from the design drawings. Yet the reality is that field workers need to make accommodations based on a variety of site-specific factors that weren't in the original design," McIver explains.
"This is the first mobile markup solution that is built right into a fully integrated digital construction management platform. As-built construction is accurately captured and integrated, giving all project visibility to any updates in real-time. It also gives PMO teams unparalleled accuracy in terms of progress reporting."
Field changes often require a plan to be modified. It could be a water main that didn't appear on the drawings, the need to divert a trench due to congestion on the ROW, or moving from aerial to buried because of a permitting issue. All these design changes also impact cost and schedule. Having a single platform to record and manage both is invaluable.
'Service Drops' are another area where the design may not accurately reflect the realities in the field. The exact route of the service drop across private property is often unknown until construction starts. Designers take their best guess, but it is ultimately up to the field crews to select the most appropriate alignment. Having the ability to record the alignment from any mobile device using GPS technology saves time and ensures records are accurate.
Unprecedented on-the-ground editing capability
Vitruvi's innovative markup feature allows users to revise the location of point-type design elements (e.g. handholes, pedestals) and edit the alignment of line-type design elements (e.g. fiber, conduit) directly from their mobile app.
It also enables users to add information like offset data (e.g. distance to a curb or the property line) to help engineers and drafters maintain the final system of record.
According to McIver, field workers no longer have to draw on a physical copy of the original design, write measurements at each deviation point, and submit multiple deliverables, sketches and files to a technician to create the final as-built design in the GIS software.
In many cases, every single data element needed for the as-built records is uploaded in a single production report, approved by an engineering manager, and pushed directly into the system of record via API's.
"What really makes Vitruvi's Mobile Markups a gamechanger, is that once redlines or markups are approved, the final design will automatically be updated as soon as the report is submitted. This will save your team hours of time collecting and validating data, enabling you to close out projects in record time!"
The information is captured as a new layer within the design – allowing team members to toggle the original design on/off to see the difference between what was designed and what was built.
At the end of the day, Vitruvi Mobile Markups benefit from quicker, more accurate as-built reporting, fewer truck-rolls, faster closeouts and quicker payments.
What really makes Vitruvi's Mobile Markups a gamechanger, is that once redlines or markups are approved, the final design will automatically be updated as soon as the report is submitted."
Contractors get promptly paid for exact work completed
By expediting reporting and sign-offs, and reducing manual data entry steps, subcontractors and employees can be compensated in a more timely manner. The ability to quickly get work approved will reduce administrative work and expedite payment.
"The markup feature is another way Vitruvi ensures the subcontractor is paid for the exact quantity or length of the as-builts they submitted," McIver says.
Greater control for more efficient projects

Vitruvi's new markup feature further sets Vitruvi's platform apart among those seeking a digital construction management platform that links the field with the front office – providing a single-source of project truth, on a common platform shared by all team members, accessible from any device.
The Vitruvi Markup feature will allow project owners to seamlessly update the project to reflect as-built construction for greater efficiency and enhanced tracking. It also benefits subsequent teams and trades, as team members are always seeing the most up-to-date as-built data.
"In creating Vitruvi's Mobile Markups, our development team is making our mark on construction management once again," McIver says.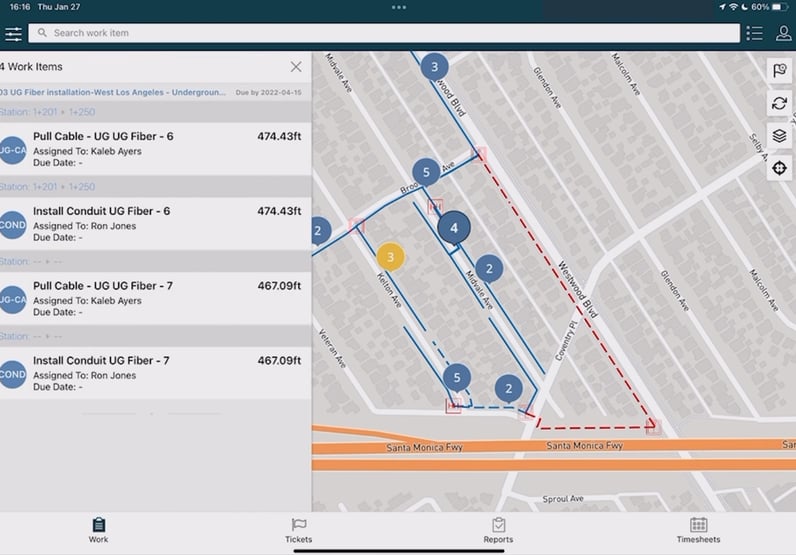 Now, a field supervisor can record redline markups directly on their mobile device to reflect final as-built construction – including all measurements. The system of record is automatically updated, without having to manually modify the GIS drawings.
See how it works! Draw the line on drawing lines. See how Vitruvi™ Mobile Markups improves and expedites as-built reporting and project close-outs.