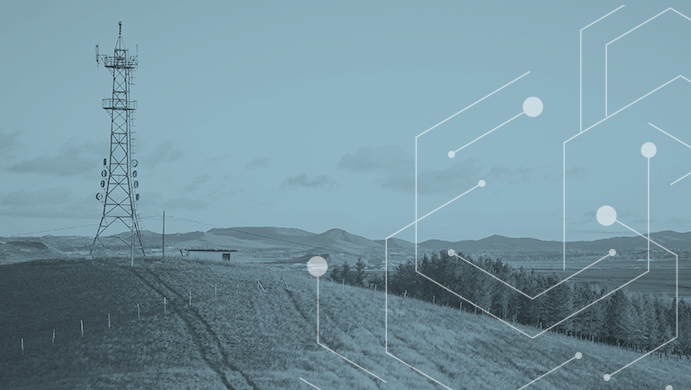 Across North America, those in rural communities have had to live with internet and wireless connections that are slower than their urban neighbours.
In Canada, for example, it is estimated 63% of rural households still do not have access to 50/10 Mbps speeds with unlimited data. The Canadian Radio-television and Telecommunications Commission (CRTC), which is the national regulator for the industry, is committed to closing the digital divide – by achieving a minimal 50/10 standard for fixed and mobile wireless broadband access across Canada.
Providing last mile connections across large, sparsely populated rural areas is costly and poses unique logistical challenges. However, those that are prepared to tackle these challenges head-on will be better positioned to take advantage of this opportunities.
Here are four ways companies, collectives, and municipalities can enhance the business case for building new networks in rural communities:
1. Take advantage of available funding dedicated to enhancing rural IT infrastructure
In Canada, Governments at all levels are incentivizing companies and organizations to improve access to broadband service to businesses, institutions, and households in rural communities.
A newly released report, "High Speed Access for All: Canada's Connectivity Strategy" noted the 2019 federal budget committed up to $6B in investment toward the goal of universal connectivity. It stated the government is committed to:
Investing $1.7 billion in new funding for broadband infrastructure. This includes a new Universal Broadband Fund to support broadband projects across the country. It also includes a top-up for the successful Connect to Innovate program, support for low-Earth orbit satellite capacity, and two new Statistics Canada surveys to measure broadband usage.


Supporting broadband projects through the $2 billion Rural and Northern Stream of the Investing in Canada Infrastructure Program.
Extending broadband infrastructure through the CRTC's newly announced $750 million Broadband Fund.


Supporting connectivity projects through the Canada Infrastructure Bank, which will seek to invest $1 billion over the next 10 years, and leverage at least $2 billion in additional private sector investment.


Using the Accelerated Investment Incentive to encourage Internet service providers to invest in high-speed connectivity across the country.
The need for government incentivization speaks to the challenges of building in rural communities. Major network providers are often reluctant due to high costs, challenging logistics, and lower margins. Funding incentives are open to smaller, nimble providers to take advantage of a new market opportunity.
2. Employ GIS-enabled construction management technology to improve efficiency
One of the biggest hurdles to building in rural areas is the distance and geography – and the communication and planning issues that come as a result. The cost of unnecessary truck-rolls and construction delays is magnified when work locations are geographically dispersed.
Adopting integrated, GIS-powered construction management software is worth its weight in gold in such situations.
In these systems, the network design is clearly laid out according to satellite coordinates, and shared with field crews so they know exactly where they need to be. With accurate GIS mapping, builders have a far more accurate idea of distances – which greatly enhances material estimates. Software can even project realistic construction timelines for individual segments of a project.
By having all team members work from the same integrated platform, all project data and project updates are organized in one-place for greater project visibility across field disciplines. Field crews can submit daily updates to the front office, including photos and as-built documentation. This improves quality control and greatly enhances accountability – bringing the field and front office closer together.
Curious to learn more about this crucial software? Explore Vitruvi.
3. Leverage existing infrastructure
As part of the "High Speed Access for All" strategy, the federal government announced a desire to piggyback on existing infrastructure as part of its rural broadband strategy. By minimizing the need to install passive infrastructure (such as poles, towers and underground ducts), federal officials believe that they could cut construction costs in half by using existing infrastructure.
According to the strategy document:
The Government of Canada will engage partners to work to reduce these costs, so that networks are less expensive and can connect Canadians sooner. This involves reviewing policy and regulatory frameworks on antenna towers and support structures, considering related advice from the forthcoming review of communications legislation, engaging internally to advance the issue and promote best practices, and raising awareness of the issue among stakeholders.
While the announcement is short on details, companies that can be proactive in finding ways to minimize costs in this manner will have an advantage in securing contracts. The ability to plan, design and build on a GIS-based project platform enhances a team's ability to identify synergies and adjacencies of existing infrastructure.
4. Button down your supply chain
When you're building a network hundreds or thousands of miles from your supply source, it is critical that you have the resources you need— where and when you need them. Supply chain can be a challenge in these areas (especially in remote communities where shipping is largely seasonal).
Again, while it's wise to build extra contingency into your inventory as added insurance, having an integrated, end-to-end construction management platform that can accurately assess resource and material requirements in real-time, can help reduce working capital costs and accelerate production.
Professional logistics and supply management is critical. Partner with a logistics, transportation, and warehousing company that is familiar with the region where you are working and understands the realities of working in a remote community.
Are you ready to seize the opportunity?
The CRTC commission's stated goal is to have 90% of Canadian households meeting their 90/50 broadband threshold by 2021, with 100% connection within the next decade.
This opens the door to companies who are prepared to face the inherent challenges of rural network construction and ready to pounce on this timely opportunity.
Bring unmatched efficiency and control to your network construction